Wearable band shipments set to exceed 43.2 million units in 2015
– Apple Watch to make up the majority of smart band shipments next year
Palo Alto, Shanghai, Singapore and Reading (UK) – Wednesday, 10 September 2014
---
Wearable band shipments will grow 129% year on year to reach 43.2 million units in 2015, of which 28.2 million will be smart bands and 15.0 million will be basic bands, according to the latest device shipment forecasts by industry analyst firm Canalys. Canalys tracks wearable device shipments and segments the market into smart bands, which are capable of running third-party applications, and basic bands, which are not.
Apple will be the biggest driver behind wearable band shipments in 2015. 'By creating a new user interface tailored to its tiny display, Apple has a produced a smart watch that mass-market consumers will actually want to wear,' said Canalys Analyst Daniel Matte. 'The sleek software, variety of designs and reasonable entry price make for a compelling new product. Apple must still prove, however, that the final product will deliver adequate battery life for consumers.'
Many market observers have questioned why consumers would want a smart band, justifiably demanding compelling use cases. Hoping to address these concerns with its new wearable, Apple has demonstrated a variety of use cases, including health and fitness and personal communication, as well as other areas, such as mapping for walking navigation, workout and activity tracking, and mobile payments. Meanwhile, low-cost Chinese vendors are increasingly playing a role in the market for wearable bands. Xiaomi has attempted to dramatically lower the price of basic bands with its Mi Band. Android Wear is growing a viable ecosystem, though it cannot be used in China. Google must greatly improve its wearable platform over the coming years to better compete with Apple's new offering. Long-term, wearable bands from all vendors must provide clear value to consumers beyond the existing capabilities of smart phones in order to justify the purchase of an additional device.
'The basic band vendors, such as Fitbit and Jawbone, will enjoy the advantages of their lower pricing for the immediate future,' according to Canalys VP and Principal Analyst Chris Jones. 'Eventually, however, stronger smart band competitors to the Apple Watch will likely emerge and push smart band pricing down, threatening the basic bands. This market will undergo disruption similar to that suffered by feature phones when smart phone prices fell.'
Wearable band shipment data and five-year forecasts are taken from Canalys' Wearable Technology Analysis service, which provides quarterly market tracking, including country-level estimates. Canalys defines basic wearable bands as devices serving a specific set of purposes that act as accessories to smart devices, are designed to be worn on the body and not carried, and that cannot run third-party computing applications. Smart wearable bands are multi-purpose devices that serve as accessories to smart devices, are designed to be worn on the body and not carried, and are capable of running third-party computing applications. Bands are wearables designed to be wrapped around the body and do not include activity trackers in the form of clips.
About Canalys
Canalys is an independent analyst company that strives to guide clients on the future of the technology industry and to think beyond the business models of the past. We deliver smart market insights to IT, channel and service provider professionals around the world. Our customer-driven analysis and consulting services empower businesses to make informed decisions and generate sales. We stake our reputation on the quality of our data, our innovative use of technology and our high level of customer service.
To view the chart(s) from this press release, and others from Canalys, download the new Insight @Canalys app today from the Apple App Store, the Google Play store or as an HTML 5 web app.
Receiving updates
To receive press releases directly, or for more information about our events, services or custom research and consulting capabilities, please complete the contact form on our web site.
For more information:
e-mail
press@canalys.com
Or call:
Canalys APAC:
Singapore Tel: +65 6671 9399 or
Shanghai, China Tel: +86 21 6271 1326

Canalys Americas:
Palo Alto, USA Tel: +1 650 681 4488
– See more at: http://www.canalys.com/newsroom/wearable-band-shipments-set-exceed-432-million-units-2015#sthash.i3GUO0Wg.dpuf
Apple Inc. (NASDAQ:AAPL) stunned the world once again on September 9 by launching its newest product, the Apple Watch.
This is the Cupertino-based giant's newest addition to its product line-up since 2009, when the first Apple iPad was announced. As expected, the Apple Watch boasted some interesting features such as the digital crown and various health and fitness monitoring capabilities. The arrival of the Apple in the wearable device shipments category has re-ignited the fledgling smart-watch market, where shipments have already risen by 684% in the first half of 2014.
The Apple watch is all set to hit retail stores worldwide starting from 2015, and is already expected to dominate the market.
Market Research Analyst firm Canalys has predicted that Apple will effectively dominate the smart-watch market in 2015. However, it would be smart bands that would lead the wearable market, atleast for next two years. Shipments of wearable band will grow 129% Y-O-Y, to sell a total of 43.2 million units in 2015.
Of these, 28.2 million sold will be smart-bands, while 15 million units will be basic bands.
Currently, the leaders in this segment are Samsung Electronics Co Ltd. (KRX:005930) , Jawbone and a host of other players  such as Motorola, LG Electronics Inc. (KRX:066570) and Sony Corp (ADR) (NYSE:SNE).
Why Would Customers Want  A Smart Band?
The new range of smart-watch devices have been greeted with much skepticism by consumers. Several vendors have offered no solid reason why a customer would ever need one.   Although wearable technology such as Google Glass, fitness bands, and health monitors already exist,  these are still early days for wearable technology as no one has figured out what they are truly meant for.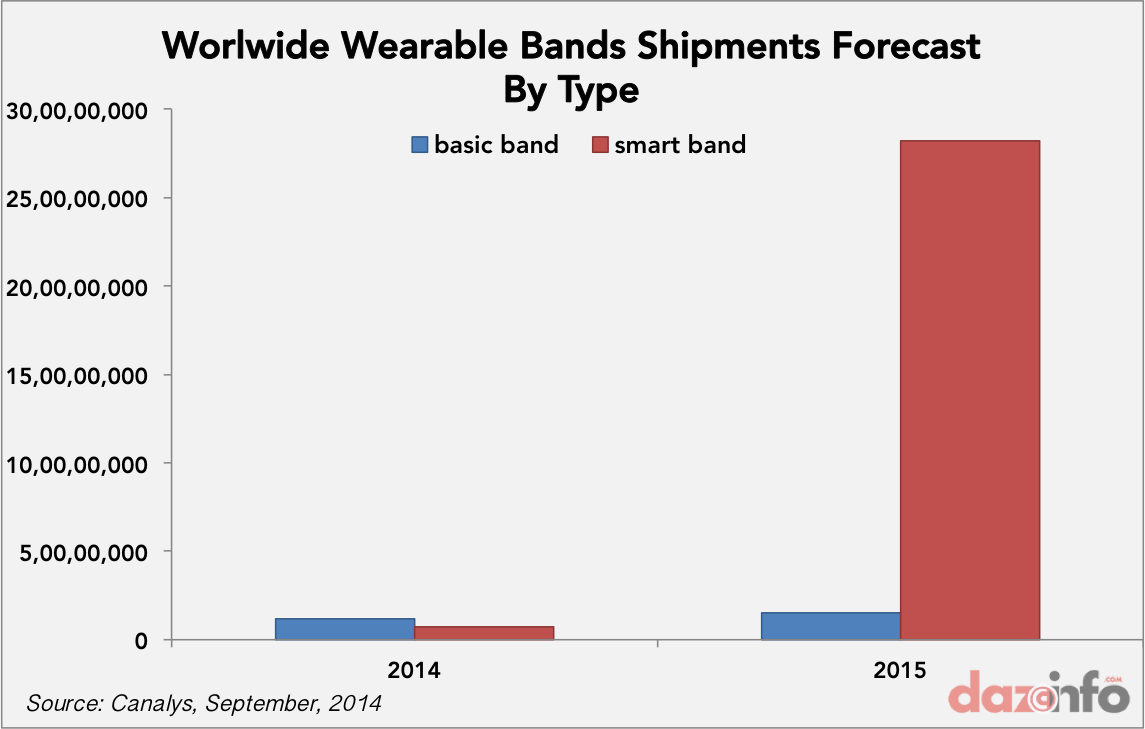 Sensing the mood, Apple has tried to spark interest through health, fitness, navigation applications as well as workout, activity tracking and mobile payments. But the company is intelligently trying to satisfy two markets by loading features of a smart band and smart watch in one device, Apple Watch.
The other players in the market, meanwhile, such as Xiaomi have already unleashed a price war by launching basic bands such as the Mi band at a jaw dropping price of US $13.
Google too, has pitched Android Wear as a practical ecosystem to compete with Apple Watch.
The long term vision of all these device makers will be to extend the capabilities of smartphones, and offer clear value to customers who will be looking to prove the purchase of yet another connected product.
Apple Smart-Watch Expected To Dominate Market Next Year
Apple's arrival in this field is extremely significant for good reasons. After pioneering the MP3 player, smartphone and tablet devices, there is immense pressure on the company to repeat the same with smart-watches. With a high price tag of US$349, the device will appeal to initial consumers with plenty of disposable income. Just as with smartphones and tablets, this will create an opening where cheaper and better products will soon enter the market, thus turning smart-watches into everyday mainstream products. Canalys analyst Daniel Matte explained the reason why is Apple's smart-watch the clear winner among all other brands.
        'By creating a new user interface tailored to its tiny display, Apple has a produced a smart watch that mass-market consumers will actually want to wear. The sleek software,

variety

of designs and reasonable entry price make for a compelling new product.

Apple must still prove, however, that the product will deliver adequate battery life for consumers."
Disruptions Will Affect Apple's Performance Quickly
Apple may have the upper hand initially, but just as with smartphones and tablets the market is prone to several disruptions. As Apple is trying to satisfy two different breeds of hand-wearable device – Smart band and Smart Watch – Fitbit and Jawbone will have the advantage of low-priced products in the near-future, but competition is sure to escalate.
This will in turn push the prices of smart-bands even further down, and match the prices of basic bands.
With the market poised to grow to 373 million units by 2020, this is a segment with enormous opportunity. The current trends bear characteristics similar to the feature phone market, which was several disrupted when smartphones began to appear.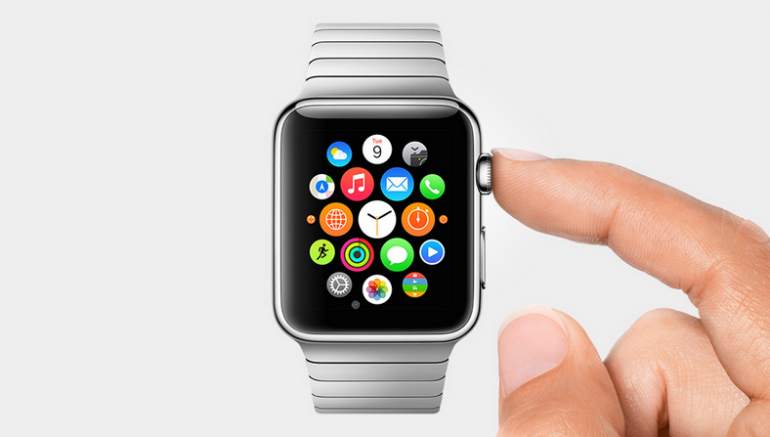 Apple still has plenty of opportunities ahead in the coming months with the release of the iPhone 6, and iPhone 6 plus.  Million of units of both devices are expected to be shipped worldwide and trigger Apple's biggest iPhone upgrade cycle.
If the iPhone 6 Can Do It – So Can Apple Watch!
If the Apple Watch can match the iPhone's success, the company will have transformed the world once again.  For now, though, Apple's Watch has been criticized for being overpriced and under-innovative, but it has undoubtedly re-ignited interest in a device that has long been considered obsolete.However, it would be also interesting to see how Apple could kill two birds with one stone!
READ MORE FROM THE ORIGINAL SOURCE AND AUTHORS BY FOLLOWING THE LINK BELOW…
---
Apple Inc. (AAPL) Will Dominate The Smart Watch Market In 2015!